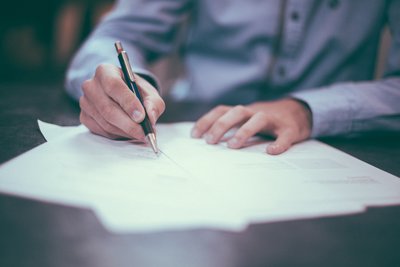 Many different types of businesses need to use a notary to validate a variety of different type of documents. Some of the most common businesses and organizations that require notary services include:
Lawyers and law firms
Banks and Credit Unions
Businesses that Need Notaries
Insurance businesses
Car Dealerships
Real estate agencies
Construction companies
Public and Private Schools
Mortgage/lending companies
Large businesses and corporations
What Employees Can be a Notary Public?
Anyone on your staff can technically become a notary public. Most businesses only need a notary for less than an hour a week and it is far more convenient to use someone in your office than to take documents to a location that performs notary services.
If you are looking to pick someone in your company to become a notary it is advisable to choose someone who is reliable and has been employed at the company for a year or longer. It is also best to choose someone who can appear to be an independent party and who does not act directly for the financial interests of the company. For example, having the owner of the business as the notary is not advisable as the notary is supposed to be responsible for both the employer and the state.
Benefits to Being a Notary in the Workplace
Having a notary on staff can also be beneficial to the person who is a notary public. They may be able to make commissions as a notary on top of their regular job salary.
Being a notary also may help improve job security. If you are the only notarized employee on staff you instantly become a more critical piece of the company's operations.
Issues Workplace Notary Publics Face
Because you're the notary expert at your workplace you are expected to be familiar with notary laws and regulations outlined by your state. You are also expected to follow those rules, especially when they inconvenience the company. Having a sound understanding of your state's notary laws is critical because in the end if you bend the rules and something goes wrong the responsibility falls on you.
Because you work in an environment you see on a daily basis, familiarity can become an issue and notary publics often slack of or bend the rules a bit with other employees. Common issues with coworkers that can lead to legal issues include not requiring the signer to appear, not requiring proof of identification, or letting other coworkers perform notary work.
Rules and Regulations
It is important to look up your state's notary laws as there may be some specific rules and limitations you need to follow as an employer. There may also be rules for employees including the hours they operate and who they can perform notary services for. For example, most states require that the notary on staff only perform notary work that is related to the interests of the company and the employer will pay for costs related to notary renewals for the employee.
It is important for employees who are notary publics to understand that their seal, journal and commission as a notary public are their property and not the property of the employer. Even though they may be paid for by the employer they are property of the employee and they do not have to turn them over to the employer at any point – even if they quite or their employment is terminated by the employer. There are a few minor exceptions in the states of Arizona, Oregon and Tennessee, however this is mostly only if the employee signs an agreement with the employer.
Overall it can be beneficial for both employers and employees to have notary publics on staff. Understanding the roles and responsibilities of each is the first step.