Pennsylvania Notary Packages and Supplies
Order your complete service new or renewal notary bond package by mail only. The orginial notary public application is required by the State of Pennsylvania.
OR
Order your electronically filed new or renewal notary bond package online.
Notary Errors & Omissions Protects You! Are You Protected? Read more on notary errors & omissions insurance.

Notary Association of Pennsylvania Co. is state approved and an educational provider.
We provide notary supplies, stamps, bonding, and renewal services. We are a notary service leader in the State of Pennsylvania. We are your primary source for Pennsylvania notaries to re-order supplies like Pennsylvania seal stamps, window decals and error & omissions policies. For those seeking how to become a notary in Pennsylvania, we have everything you need to get started and everything you will need for a Pennsylvania notary renewal. 
---
Complete the state required notary education for notary commission:
If you were a notary before July 1, 2003 and your commission has never lapsed you are exempt from the state test. If you are exempt from the state required training test proceed to the new or renewal complete service link or new or renewal electronically file link to proceed with your order.
State required notary online test:
We are a state approved educational provider. This course is provided free of charge to our customers. Please complete the state required notary online test to obtain your certificate of completion.
---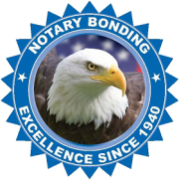 Includes: Required $10,000 Notary Public 4 Year Bond
Includes: $3,000 Notary Errors and Omissions 4 Year Policy
Includes: Secretary of State Filing Fee of $40.00
Includes: Official Self-Inking Rectangular Seal Stamp
Includes: Notary Public Static Window Decal
Additional Notary 4 Year E & O Insurance Coverage Available:
$  5,000 Notary Errors & Omissions 4 Year Policy= $30.00
$10,000 Notary Errors & Omissions 4 Year Policy= $50.00
$25,000 Notary Errors & Omissions 4 Year Policy= $75.00
Price as low as: $114.90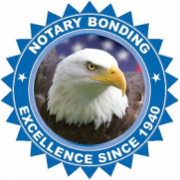 Includes: Required $10,000 Notary Public 4 Year Bond
Includes: $13,000 Notary Errors and Omissions 4 Year Policy
Includes: Secretary of State Filing Fee of $40.00
Includes: Official Self-Inking Rectangular Seal Stamp
Includes: Notary Public Static Window Decal
Additional Notary 4 Year E & O Insurance Coverage Available:
$  5,000 Notary Errors & Omissions 4 Year Policy= $30.00
$10,000 Notary Errors & Omissions 4 Year Policy= $50.00
$25,000 Notary Errors & Omissions 4 Year Policy= $75.00
Price as low as: $141.90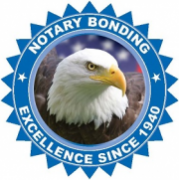 Includes: Required $10,000 Notary Public 4 Year Bond
Includes: $23,000 Notary Errors and Omissions 4 Year Policy
Includes: Secretary of State Filing Fee of $40.00
Includes: Official Self-Inking Rectangular Seal Stamp
Includes: Notary Public Static Window Decal

Additional Notary 4 Year E & O Insurance Coverage Available:
$  5,000 Notary Errors & Omissions 4 Year Policy= $30.00
$10,000 Notary Errors & Omissions 4 Year Policy= $50.00
$25,000 Notary Errors & Omissions 4 Year Policy= $75.00
Price as low as: $151.90