The act of attending the execution of a document and bearing witness to its authenticity, by signing one's name to it to affirm that it is genuine. The certification by a custodian of records that a copy of an original document is a true copy that is demonstrated by his or her signature on a certificate. An attestation is a declaration by witness that an instrument has been executed in his or her presence according to the formalities required by law. It is not the same as an Acknowledgement, a statement by the maker of a document that verifies its authenticity. An attestation clause is frequently found in legal documents that must be witnessed if they are to be valid, for example, a will or a deed. It states that the instrument has been completed in the manner required by law; Notaries in some states are allowed to make an attested copy of an original document if it is not a vital record or recordable document; in the presence of the witness who places his or her signature in the designated space. Stamp measures 3-1/8'' H x 2-1/4'' L and fully complies with state statutes.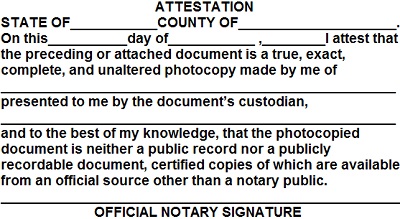 #219 - MarkMaker Over-Sized Rubber ($18.95): 

Unlimited impressions with use of stamp pad (not included).