Say goodbye to writer's cramp and save time with a replica of your own signature. Ideal for quickly signing checks and other important documents with ease.
Provide up to 5,000 impressions.
Interchangeable built-in ink pad that is easy to re-ink or replace.
Stamp measures 7/8" H x 2-1/4" L.
Ink colors of black, blue, red, green or violet.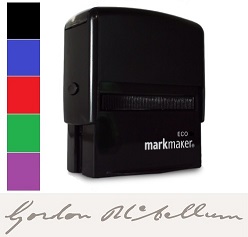 Directions on how to send your signature:
1: Use 1 piece of paper that is white and unlined.
2: Use only a black inked pen and press hard.
3: Make sure the signatures do not touch each other.
4: Sign 3 times to ensure clarity or your signature.
5: Email a JPG, PDF, PNG or TIF attachment to signaturestamps@notarybonding.com. 
6: Include in the email your order number, name, and address.