A formal declaration before an authorized officer such as a notary, by a person who has signed a document. That the document is his or her act. The person acknowledging the document must personally appear before the notary. In addition the signer also indicates in the notary's presence that he/she signs the documents of his/her own free will and was not coerced into signing a document he/she did not want to sign. Important: The signer does not have to sign the document in the presence of the notary, but the document must display the signer's originial wet ink signature. Stamp measures 1-7/16'' H x 2-13/16'' L and fully complies with state statutes.
#213 - MarkMaker Rubber ($16.95): Unlimited impressions with use of stamp pad (not included).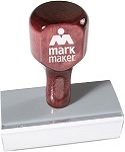 #214 - MarkMaker Self-Inking ($19.95): Up to 5,000 impressions. Interchangeable built-in ink pad that is easy to re-ink or replace. Sleek black design is produced with 75% of parts made from recycled plastic.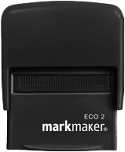 #215 - MarkMaker Pre-Inked ($24.95): Up to 25,000 impressions. Adjustable ink density with built-in stamp pad and provide a lifetime guarantee.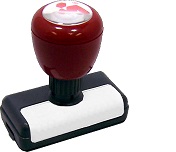 #215-A - Xstamper Pre-Inked ($55.95): Up to 50,000 laser quality impressions. Extremely durable with built-in stamp pad, ECO-green friendly and provide a lifetime guarantee.